CULINARY CARAVAN ON THE MOVE
Kansainvälinen koulutushanke
BUILDING UP INTERNATIONAL E-LEARNING ENTREPRENEURSHIP PLATFORM WITH POP UP RESTAURANT MODULE
Kesto: 1.9.2016–31.8.2018
Kuvaus/tavoitteet: Hankkeessa rakennetaan uusi kansainvälinen verkko-oppimisympäristö yrittäjyyden opiskeluun pop up -mallin avulla. Hankkeen aikana kansainväliset opiskelijaryhmät perustavat neljä pop up -ravintolaa, yhden jokaisessa osallistuvassa maassa. Kaikki hankkeeseen osallistuvat opiskelijat suorittavat Yrityksessä toimiminen tutkinnonosan (15 osp). Hankkeessa on mukana liiketalouden ja ravintola-alan oppilaitoksia sekä yrityskumppaneita, jotka toimivat opiskelijoiden mentoreina.  Hankkeen kieli on englanti ja mukana olevat maat Suomi, Latvia, Italia ja Espanja.
Hallinnoija: Perho Liiketalousopisto
Muut kumppanit: Mercuria Kauppiaitten kauppaoppilaitos, Ravintola Juuri, Col·legi Badalonès (Espanja), IPSAR "Luigi Carnacina" (Italia), Riga Technical School of Tourism and Creative Industry (Latvia), Estudis d'Hoteleria i Turisme CETT S.A. (Espanja), Jekabpils Agrobusiness College (Latvia), Istituto di Istruzione Superiore 'De Amicis' (Italia), Golfa Kluba Restorāns (Latvia), Saüc Assetec S.L. (Espanja)
Lisätiedot
Johanna Mäesalu, kansainvälisen toiminnan päällikkö
050 380 5944
johanna.maesalu (at) perho.fi
---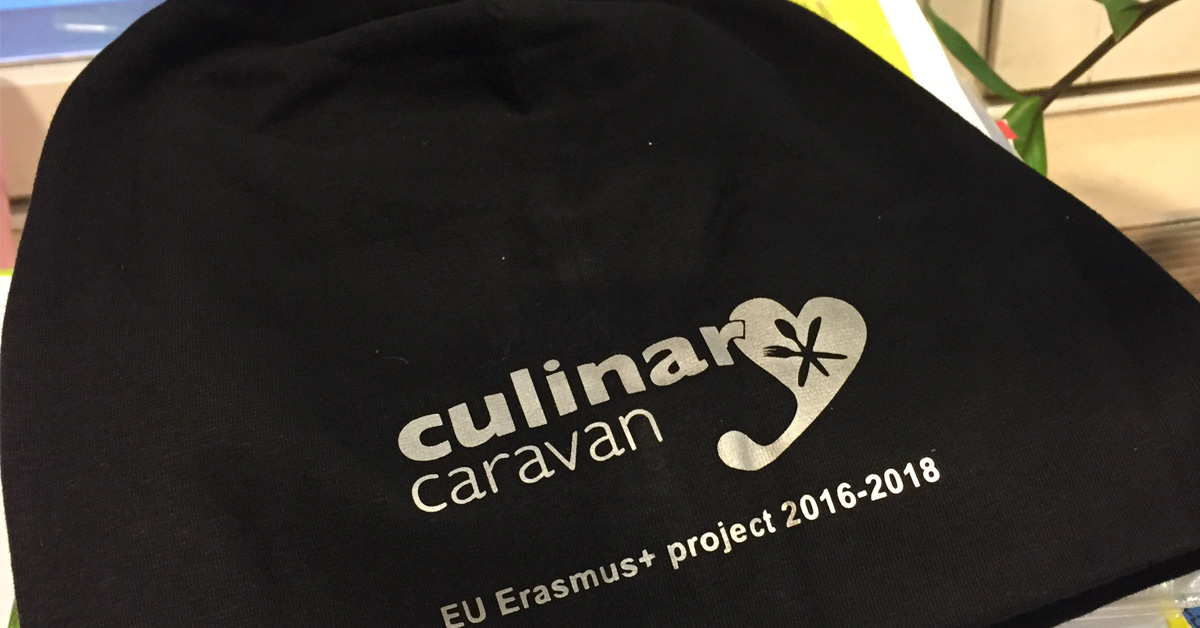 14.5.2018
Hilary-Joy Virtanen, Assistant Professor, Finnish & Nordic Studies, hilary.virtanen (at) finlandia.edu
"One project that we could not directly witness but which we were excited to discuss, was the Culinary Caravan on the Move >>, a multiyear international education project funded by Erasmus + connecting Perho students with peers in Latvia, Spain, and Italy. In this project, the students work together both through internet-based cooperation and later through a project in which they run a food truck for a few days together, at an event in one of the students´home countries. In Finland, for instance, they served sausages and sandwiches at a Christmas Market in Helsinki. Later this summer, the students will serve food at a wine festival in Italy.
Such projects give students direct experience in the planning, operating, and management of a dining establishment, in a low-risk environment which will help them to become successful restaurant entrepreneurs. These students work across cultural and linguistic lines and they do so under the mentorship of teachers who allow them to steer the activity but are willing to advise as needed. It, much like the tour guide test we witnessed, prepares these students for careers in their areas of interest. It was really fascinating to learn about!"