AgriCulinary – OPH/Erasmus+ Joint Project
In the project we create a new innovative & multidisciplinary future-oriented AgriCulinary Training Unit for culinary & horticultural field towards more sustainable planetary food system.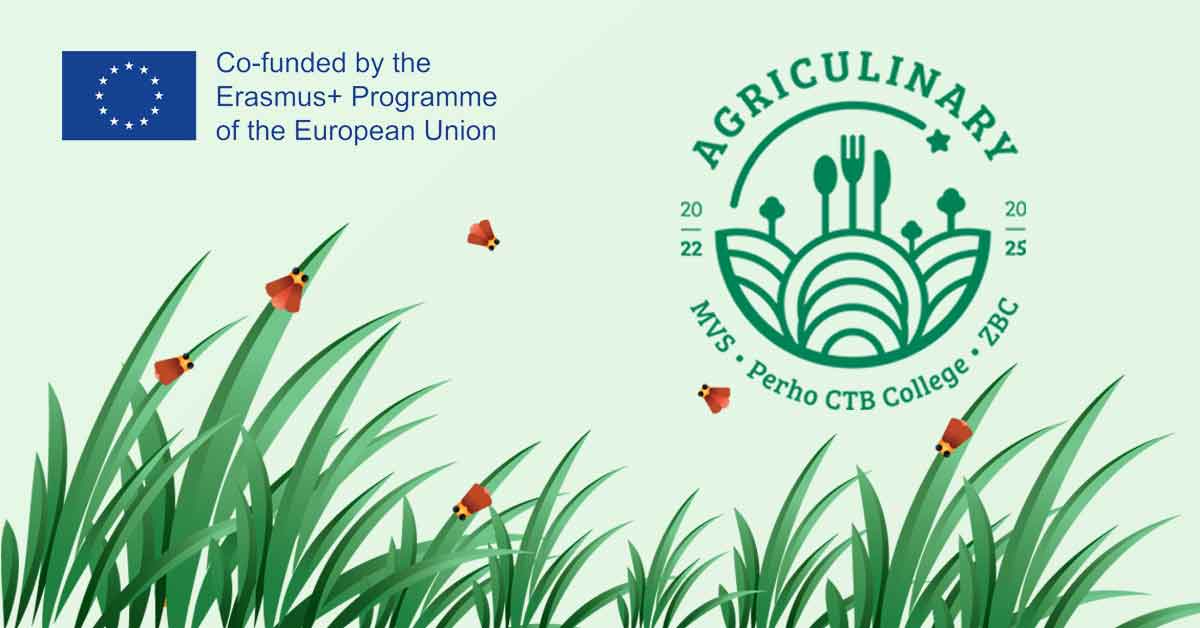 Period: 1.9.2022–31.1.2025 incl. pilot training 8/2023–8/2024
Contributors: Finnish National Agency for Education (OPH) and Erasmus+
Coordinator: Perho Culinary, Tourism & Business College (PCTBC, Finland)
Partners: Mosjøen videregående skole (MVGS, Norway) and Zealand Business College (ZBC, Denmark)
Website: agriculinary.eu >>
Work stages and their leaders:
Project Management (PCTBC + monitoring the quality of the project by MVGS)
Educational beachmarking & visits (MVGS)
Development of curriculum & teacher training (ZBC)
AgriCulinary pilot training program unit (PCTBC)
Impact and dissemination (PCTBC + MVGS)
Main objectives:
A comprehensive understanding of best sustainable practices within culinary and agriculture curriculum to be combiled into a summary report that is used in the development of AgriCulinary training curriculum and supplemental materials.
Development of a multidisciplinary Agriculinary training curriculum & materials & to educate teachers for new innovative training unit.
Develop and create online publication of the AgriCulinary training and to organize open webinars.
Implementation:
Implementing training & piloting AgriCulinary training program collaboratively at three participating colleges offering local contact lessons, collaborative online lessons, webinars & on-site workshops (sharing & learning local practices).
Updating AgriCulinary training curriculum, develop training videos & supplemental materials during piloting of training.
Developing a summary of best educational practices and produce final version of AgriCulinary training unit to be shared publicly online.
Results:
Training of teachers, completion of all training materials and disseminate project findings and information via online platforms including; webinars, video and printed content, educational curriculum and training materials for AgriCulinary classes and practical activities.
Develop and create of www-pages, completion of video summary of the whole project, organize dissemination workshop and final report of the project.
Pro sustainable food and planet 💚
Erasmus+ AgriCulinary – further information

Johanna Mäesalu
Manager, International Affairs
+358 (0)50 380 5944
johanna.maesalu (at) perho.fi
https://perho.fi/wp-content/uploads/2023/03/agc-grass-fp.jpg
628
1200
Jonna Ordning
https://perho.fi/wp-content/uploads/2019/10/perhoLTO_logo_turkoosi-300x117-300x117.png
Jonna Ordning
2023-03-10 15:58:12
2023-04-25 10:28:38
Erasmus+ AgriCulinary