Tailored Gaze-Smart Application for Perho Culinary, Tourism & Business College
Softability Studio created virtual learning environment with HoloLens for Perho Culinary, Tourism & Business College. The application guides and instructs user to complete different work stages.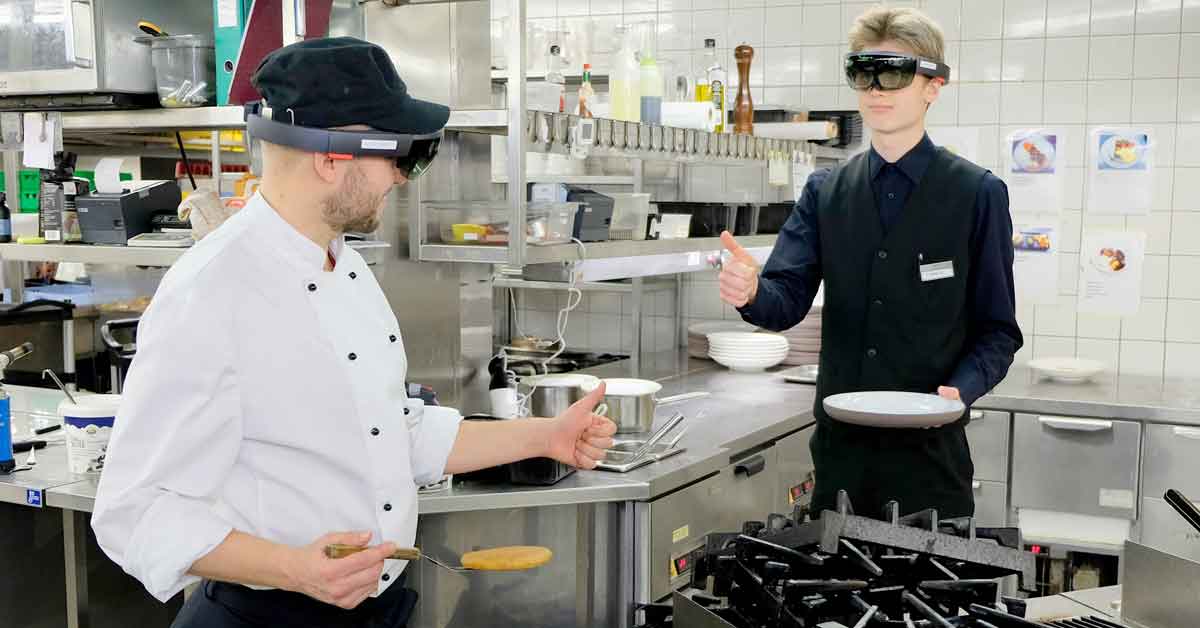 HoloLen's control methods (gaze, gestures) allows user to work hands-free and the focus remains on a job. For example, with the application and HoloLens smart glasses students can practice working in a kitchen or in a dining room and at the same time check work instructions. HoloLens can store a lot of teaching material, which students can utilize at internships when help is not near – HoloLens can show for an example virtual 3D model how to set a table right. Remote connection with two-way video and sound is also possible with HoloLens, so student needing acute help can contact a teacher who is in a different place.
The HoloLens application was created with Unity development environment and utilizes Microsoft Mixed Reality Toolkit (MRTK). The application builds the content from JSON file, which allows a flexible way to easily organize the content (menus. sub-menus etc). At the moment the application features include showing of text (menus, recipes), videos (e.g. cooking tutorials), showing pictures, and opening and browsing of PDF-files. Application can also display 3D objects (e.g. virtual table set ups). The user can also open a web content straight to Hololens´s browser Edge, for example iPerho online-learning environment.
Most of the content is currently loaded locally from HoloLens memory, but in the future, everything will be loaded in directly from the Perho's web servers. The user controls the HoloLens application with gestures (air tap) and gaze, which allows user to work hands-free. Voice control is also possible for the application but in this case, it is not necessarily practical in a restaurant because of the background noise.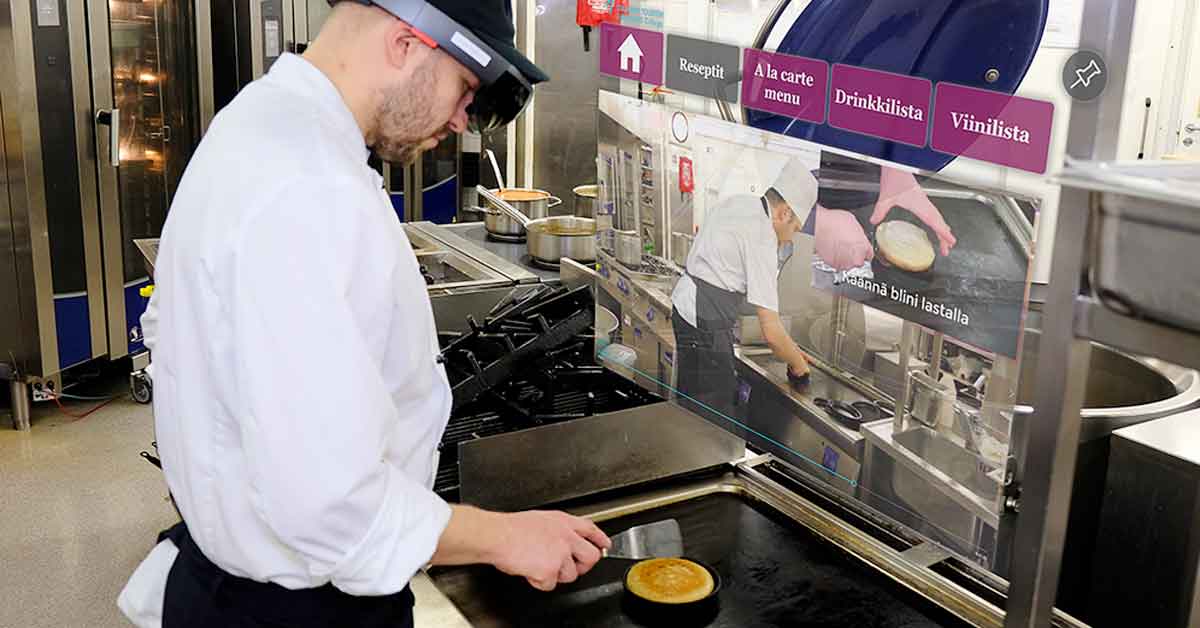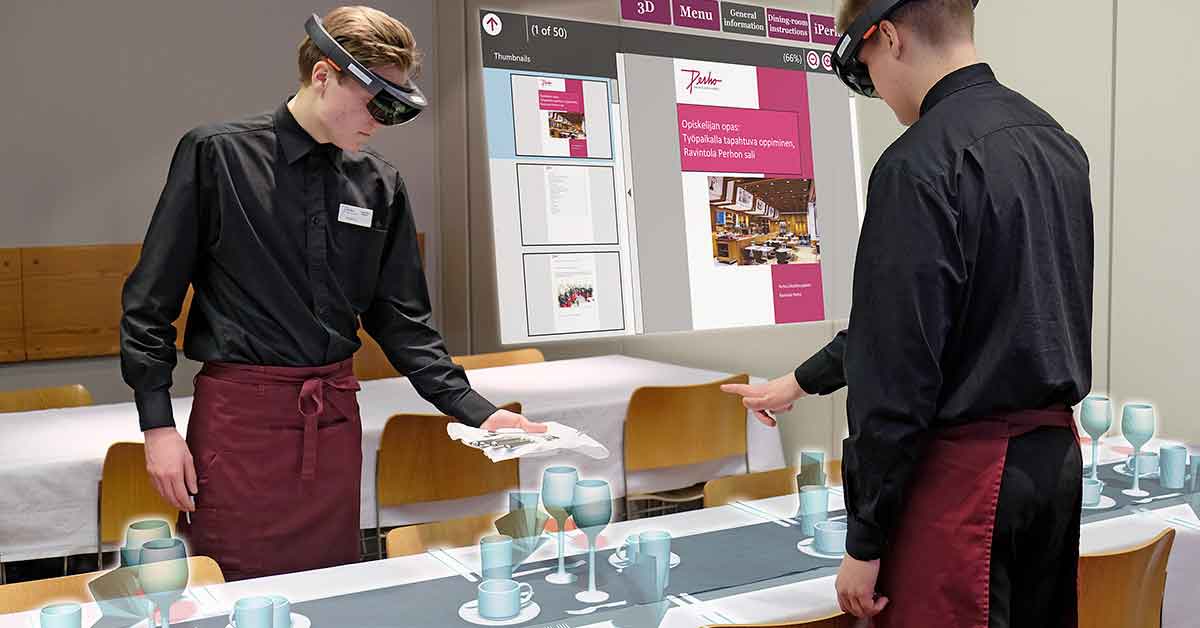 Perho Is Part of MR Amis Project
Being a pioneer is one of the Perho Culinary, Tourism & Business College's values, which shows among the others that the educational institution is active in developing digitalization. Development usually happens through a variety of projects, and at the moment Perho is part of MR Amis >> – Mixed Reality / educational technology development project, which is financed by Finnish National Agency for Education >>

The main objective of MR Amis project is to find ways to integrate augmented and mixed reality into teaching and learning environments, including training placements. Perho CTB College's activity towards developing digitalization shows in their virtual environments that are already in use, like 360-virtual environment from Restaurant Perho, from the teaching kitchen, from the field of Green City Farm and VR-kitchen from Restaurant Perho's Perho kitchen.
Utilizing Microsoft Hololens in Education
Technology's development affects restaurant industry as it does other industries' work environments and tasks. This projects goal was to find out how well HoloLens smart glasses fit in to education. HoloLens´s are especially hoped to support students' training and remote communication opportunity to bring benefit to learning environments. One of the goals was also to find out what kind of teaching material and instructions can be shared via HoloLens and what kind of communication smart glasses support.
"We surveyed smart glass options and contacted many companies both in Finland and internationally. We ended up with Microsoft Hololens smart glasses because they support the best Perho Culinary, Tourism & Business College´s online-campus functionalities, including other digital office software systems already in use in iPerho -online learning environment", says Perho Culinary, Tourism & Business College´s Education Technology Development Manager and Lecturer Jarmo Åke.
"Cooperation with Softability Studio >> started naturally going forward with testing and brainstorming, which led us to build together pedagogic pilot environment in Microsoft HoloLens smart glasses to service industry students."
Perho Culinary, Tourism & Business College´s Career Coach and Lecturer Katja Winogradow notices also:
"Because of the active cooperation the Hololens pilot environment is now ready to be tested by Perho´s staff, students and MR Amis Project´s college and business partners. Pilot observations and surveys gives us user-based information to further develop the environment. The most important in developing the learning environment functionalities is to actively involve the users (students, teachers, mentors) in user experience planning."
Virtual Learning Environment Application – Further information
Ms Katja Winogradow, Lecturer, Career Coach
+358 (0)40 809 3636
katja.winogradow (at) perho.fi
Mr Jarmo Åke, Education Technology Development Manager, Lecturer
+358 (0)40 147 8552
jarmo.ake (at) perho.fi
The article is added to this site with permission. Original article >> 
---

https://perho.fi/wp-content/uploads/2019/10/holens-kokki-tarjoilija.jpg
628
1200
Jonna Ordning
https://perho.fi/wp-content/uploads/2019/10/perhoLTO_logo_turkoosi-300x117-300x117.png
Jonna Ordning
2019-10-01 20:30:07
2019-10-04 12:06:04
Virtual Learning Environment with HoloLens